---
Latest News and Events
---
Notice Board

Vidya Pratishthan's Vinodkumar Gujar Bal Vikas Mandir, Baramati.
The Vidya Pratishthan, Baramati, took the 'First Step' into the Field of Education in June 1972, with the establishment of "Bal Vikas Mandir".
The School's motto is 'Beau Ideal' or Perfection and this is precisely what the management, staff and students aim at, 'In All we do in Work and Play...'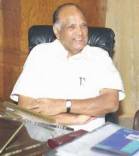 Hon. Shri Sharadchandraji Pawar
Ours is one of the very few schools, which offers the parents a choice between the S.S.C.E. and I.C.S.E. Courses. The Teachers accepted the challenge of implementing different syllabi and methodology for each course. They translated their efforts into excellent results in the Board and Council Examinations and have continued to do so for the past twenty-one years.
Our success lies in the fact that we have a dedicated Teaching Staff. They are regularly exposed to New Teaching Techniques, Activities and Learning Experiences through Training Sessions conducted by the 'Best' available Resource Persons.
The Psychological Foundation of our school rests in uncompromising discipline and the main 'pillars' that support our unfinished edifice for developing character and leadership are Spiritual Education, the Prefect System and the House System.
"The Battle of Waterloo was won on the playing Fields of Eton." These immortal words by the Duke of Wellington - England's greatest soldier are reflected in the Leadership and Team Spirit displayed on our Sport's ground.
The School also provides an even increasing variety of co-curricular activities from Song and Dance to Yoga and from Skating to Astronomy. There is ample scope for talents to be discovered and developed.
We have an Active Alumni Association that is ever ready to serve their Alma Mater. Their active interest speaks volumes about their loyalty and gratitude.
The Spirit of the School is reflected in the second stanza of Our School Song.
"Day after day it is our foremost Aim,
To lift our thoughts On to a higher plane,
Knowledge and Skills we'll use to play our parts,
To serve our Country's cause with all our hearts."
back to top